SOLIDARITY
28/11/19 – Lucy Parker has been awarded the prize in the Competition for First Appearance at International Documentary Festival Amsterdam for Solidarity.
---
SOLIDARITY
27/9/19 – Solidarity film by Lucy Parker premiered at Sheffield Docs Fest on 8th June, and then screened at Open City Docs, London on 7th September. The tour has begun with a screening at Hebden Bridge Picture House on 22nd September. We are organising a UK cinema tour, with initial dates to release as:
New dates and updates please see www.solidarityfilm.com
---
CITY PROJECTS BOARD
29/8/19 – City Projects welcomes Rabz Lansiquot and Taylor Le Melle to its board.
Rabz Lansiquot is a filmmaker, curator, and DJ. She was a leading member of sorryyoufeeluncomfortable, a London-based collective that created intentional spaces for deep study, conversation and multi-disciplinary art-making and now works collaboratively alongside Imani Robinson under the name Languid Hands producing artworks and curatorial projects. For 2019, she is curator in residence at LUX Moving Image and a programme advisor for London Film Festival's Experimenta strand.
Taylor Le Melle is a curator and writer. With Imran Perretta, Rhea Storr and Jennifer Martin: not/nowhere, an artist workers' cooperative based in London. With Rowan Powell: PSS, an independent publisher of printed matter.
---
SOLIDARITY
29/8/19 – Solidarity by Lucy Parker will have its London Premiere at Regents Street Cinema on Saturday 7th September at 8.50pm. There will be a Q&A with Lucy Parker, John Bryan (Blacklist Support Group), 'Alison' and 'Andrea' (Police Spies Out of Lives). Tickets and info here
---
POLITICS OF PRODUCTION
01/07/19 – Dan Ward discusses the Politics of Production report on Resonance FM from 8-9pm on Wednesday 3rd July Morgan Quaintance's Studio Visit show. 
---
SOLIDARITY
31/5/19 – Lucy Parker's feature-length film SOLIDARITY is finished! It will have its World Premiere at Sheffield Docs Fest on Saturday 8th June at 1115AM, with an additional screening on Sunday 9th June at 1130AM. Both screenings will have a Q&A. There will be additional screenings in the coming months nationally and internationally so please join the mailing list for updates or go to http://www.solidarityfilm.com

---
POLITICS OF PRODUCTION: Research Project
01/05/2019 – After two years of research by artist Dan Ward our report The Politics of Production is published today. It is available to download here, and printed copies are available at BFI and LUX bookshops and by request.

A sister text written by City Projects producer Kate Parker in 2016 is available here

A day of events will follow.
---
NEW TRUSTEES
15/08/18 – City Projects welcomes new board members Fani Arampatzidou, Laura Gannon and Louise Shelley.
---
CALL FOR TRUSTEES
01/06/18 – City Projects is a non-profit organisation based in London that commissions and produces artists film projects. Established in 2004, we have specialised in film since 2008. In this time we have operated without core funding and have remained stubbornly independent and strongly committed to supporting artists and the production of political and experimental work. We have made films with Knut Åsdam, Phil Coy, Anja Kirschner & David Panos, Grace Schwindt and Emily Wardill, with partners including FLAMIN, Focal Point Gallery, Collective Gallery and Serpentine Gallery.
We are currently producing a long form film with Lucy Parker looking at political blacklisting in the construction industry and a research project with artist Dan Ward examining the current conditions for producing artists film. This research is part of a move away from producing individual works we have been considering for some time to focus instead on supporting a community of artist filmmakers.
We need a management committee to oversee the organisation as it goes through a period of self examination, thinking about how it could change to better support political and experimental practices, including examining these terms. An advisory group is also planned to look at this question in detail so expertise in the field is not required, more important is a commitment to political practices and the ability to help a small organisation develop to support them.
We are looking for up to 4 new committee members, including a Chair and a Treasurer to oversee the organisation alongside Kate Parker, the existing Secretary and a freelance producer who will continue with day-to-day operations. Currently Director of the organisation, Kate is removing this role so the new committee structure will be flat.
Trustees will be required to attend quarterly meetings of around two hours, with any additional work as agreed. It is an opportunity to take part in an experimental phase, which is open to re-shaping the organisation completely. The main requirement is commitment and interest in thinking through what a small independent organisation could do to support experimental practices best today.
We would encourage people to apply who are committed to experimental and political film, but no expert knowledge is required. We particularly encourage BAME, working class, disabled, women and LGBT+ applicants. Please note on your application if you identify as belonging to one of these groups.
Please apply by July 10th with a short CV and a statement outlining your interest, noting any relevant experience including financial management and technical skills, and confirming your availability to be on the committee for a minimum of one year.
Please feel free to call to talk it over before applying. Please email applications or queries to Kate Parker kate@cityprojects.org / 0781 306 2595
City Projects is registered society under the Co-operative and Community Benefit Societies Act 2014, registration No. 29667R
---
POLITICS OF PRODUCTION
07/11/17- Research Project
City Projects is working with artist Dan Ward on a project examining 60 works in detail in order to evaluate the current conditions for the production of artists moving image in the UK to reveal how these conditions might affect the sustainability of the sector and the critical capacity of the works.
---
SOLIDARITY
15/09/17 – Exhibition at Marabouparken, Stockholm Mouth Shut, Loud Shouts until 3rd December.
14/10/17 – Apologies (2016) screening at 'Who's Watching Whom – justice, trade union and democratic rights' meeting in Coventry.
---
SOLIDARITY
18/07/16- Lucy Parker at Jerwood Space/ New Website for Blacklist
Following the public apology given to blacklisted workers in May 2016 Lucy has made a new short film for Jerwood looking at the role of the apology.
Jerwood Visual Arts, 27th July – 28th August. Preview Tuesday 26th July, 1830 – 2030. more info
The new website has information on events, research, film clips and campaign links.
http://solidarityfilm.com/
---
SOLIDARITY
10/02/16- Fundraising Campaign for Blacklist by Lucy Parker
---
SOLIDARITY
05/11/15- Lucy Parker in residence at Rhubaba, Edinburgh to present research from 15 November to 6 December, 2015.
Preview: Sunday 15 November 2015, 3pm with speaker Mike Hughes
Closing Event: Friday 4 December 2015, 6:30pm with invited speakers on the subject of endings.
---
SOLIDARITY
15/11/14- A new film by Lucy Parker is in development.
---
PIERCING BRIGHTNESS SOUNDTRACK
04/11/13- A soundtrack to the film Piercing Brightnessby Shezad Dawood (2013) is being released on November 25th. An album and single have been produced on vinyl with excerpts from the film and music by Acid Mothers Temple, Mordant Music, Alexander Tucker & Decomposed Orchestra and Raed Yassin & Omar Dewachi.
Launch event: Monday 18th November, 8.30pm, Rizty Cinema, Brixton (upstairs bar) with Alexander Tucker playing live and DJ Radioactive Man. Free, email kate@cityprojects.org to book.
---
FULLL FIREARMS
27/11/12- Fulll Firearms will be screened at ICA, London on Saturday 1st December, 2012 at 5pm. Book Tickets
---
TENANT
26/10/12- Tenant will be screened at Spill, Festival of Performance in Ipswich on Thursday 2nd November, 2012.Info
---
TENANT
26/8/12- Tenant will be screened as part of a solo exhibition at WIELS, Brussels from 13th to 30th September 2012. Info
The film will also be shown at Frieze Art Fair in London with Zeno X Gallery, Antwerp from 11 – 14th October.
---
Screening at Hackney Picture House
05/04/12- Fulll Firearms will be screened at Hackney Picturehouse on 26th April 2012, followed by a Q&A with Emily Wardill Book Tickets
---
Screenings
05/04/12- Tenant will be screened as part of a solo exhibition at Collective gallery in Edinburgh from 21st April to 27th May 2012. There is a special screening on Sunday 22nd April followed by a performance by Grace Schwindt. Book Free Tickets
The film will also be shown at Whitechapel Gallery on 28th June followed by a Q&A with Grace Schwindt and Ian White. Book Tickets
---
JARMAN AWARD WINNERS
04/10/11 – Anja Kirschner and David Panos were announced last night as winners of the Jarman Award 2011.
Kirschner and Panos were nominated for The Empty Plan produced by City Projects in 2010.
---
TENANT
05/09/11 – Tenant is currently in post production.
---
FULLL FIREARMS
03/09/11 – Fulll Firearms is currently in post production. New production stills added to PROJECTS page.
---
ABYSS
20/08/11 – Screening
Beta Movement: Knut Ã…sdam, Tripoli and Abyss
Thursday 25 August 2011
CCA, Glasgow, 25th August, 2011
---
THE EMPTY PLAN
15/08/11 – Screenings and Exhibitions
Babylon Cinema, Berlin, 9th September 2011
Anja Kirschner and David Panos have been nominated for the Jarman Award. The Empty Plan will be part of the touring programme during September info
Staatsgalerie, Stuttgart, ends 9th October 2011
Castillo/Corratles, Paris from 16th September to 5th November, 2011 The Empty Plan will be shown with French subtitles alongside other work.
British Art Show 7 tours to Plymouth from 17th September to 4th December 2011
---
MY GRANDPARENTS' TENANT
07/02/11 – My Grandparents' Tenant is currently in production
---
FULLL FIREARMS
04/02/11 – Fulll Firearms is currently in production
---
Exhibitions and Screenings
01/02/11 – The Empty Plan will be included in theBritish Art Show 7: In the Days of the Comet at Hayward Gallery, London (16 Feb – 17 April), Glasgow (28 May – 31 Aug) and Plymouth (17 Sep – 4 Dec).
The film will also be exhibited at Kunsthall Oslo from 14 May – 3 July and Staatsgalerie Stuttgart from 11 June – 9 Oct 2011.
There will be a screening at Whitechapel Gallery on 17 March at 7pm followed by a Q&A with the artists and Esther Leslie, Professor of Political Aesthetics at Birkbeck, University of London. Book tickets
---
Knut Ã…sdam, Tate Modern
01/02/10 – UK premiere of Abyss at Tate Modern, Tuesday 15 February 2011, 7pm.
Introduced by George Baker, Associate Professor of Art History at UCLA. The screening will be followed by a Q&A between Knut Ã…sdam, George Baker and Tate curator Stuart Comer.
Ã…sdam's film Tripoli (35mm, 24 mins, 2010) and a number of earlier works will be screened Wednesday 16 February, 7pm.
---
Focal Point Gallery
18/11/10 – The Empty Plan will premiere at Focal Point Gallery, Southend, 20 November 2010, 2 – 4pm
---
Knut Ã…sdam
29/9/10 – Knut Ã…sdam Festival Exhibition, Bergen was reviewed by Ina Blom in October's Artforum
Download PDF of Artforum review
---
Knut Ã…sdam Festival Exhibition 2010 Bergen Kunsthall
20/5/10 – Abyss, produced by City Projects, will feature in Knut Ã…sdam's solo show at Bergen Kunsthall, Norway from 27 May to 22 August 2010.
---
THE EMPTY PLAN
15/04/10 – The Empty Plan is currently in production
---
Phil Coy: WORDLAND Screening The Russian Club Gallery, Wednesday 3rd February 2010, 6.30 – 9.30pm
Wordland, produced by City Projects, will be screened with a live performance by Alexander Tucker at The Russian Club Gallery. The exhibition 'Film and Video' continues until 6th February and also features work by Knut Ã…sdam, Lucy Clout, Grant Lee, Richard Grayson and Juneau Projects. Knut Ã…sdam will be showing Notes Towards a Dissipation of Desire (2001) and Cluster Praxis (2000)
The Russian Club Gallery website
---
ABYSS
01/10/09 – Abyss, a 35mm film shot in East London is currently in production.
---
Phil Coy: Wordland screening
16th November 2008, 11am
Wordland, produced by City Projects, will be screened at the Aurora film fetival in Norwich in a programme with Marine Court Rendezvous by Iain Sinclair and Chris Petit (2008), The Western Lands: 'Hoy' by Grant Gee (2007), and Aspect by Emily Richardson (2004).
---
ADVENTURE: Showdown at the pig palace
CD Launch at Publish and be Damned
Mark and Stephen Beasley's radio play is being released in an edition of 500 by Junior Aspirin Records. The CD includes a new extended version of the work (40 mins), and the radio edit (28 mins). It can be purchased fromJunior Aspirin Records or at a reduced price at the launch.
PUBLISH AND BE DAMNED
Sunday 3rd August, 12 – 6pm
Rochelle School, Arnold Circus, London, E2 7ES
Free admission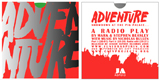 ---
WORDLAND
Presentation of Phil Coy's film with live soundtrack composed and performed by Alexander Tucker.
Arcola Theatre, London: Sunday 6th April, 2008 at 7pm
Outpost Gallery, Norwich: Saturday 24th May, 2008 at 8pm
Exhibition at City Projects: 4th to 27th April, 2008
Saturday/Sunday 1-6pm
Screening at Cley Village Hall, Cley next the Sea, Norfolk: Friday 23rd May, 2008 at 8pm
Screening at Walcott Village Hall, Norfolk: Sunday 25th May, 2008 at 2.30pm
All events are free, no booking required
For more information click here
Or visit the Wordland website
---
WORDLAND
During November and December 2007 Phil Coy will be filming in and around the Norfolk coastal villages of Walcott and Cley next the Sea. He will be interviewing local people about the effects of coastal erosion and the floods of 1953. These filmed interviews will form the basis of a new film commissioned by City Projects.
For more information click here
---
ADVENTURE: Showdown at the pig palace The FM Ferry Experiment
The FM Ferry Experiment, a project conceived and programmed by neuroTransmitter, will be an eight-day mobile radio project held on the Staten Island Ferry during the fall of 2007 featuring ADVENTURE
---
ADVENTURE: Showdown at the pig palace WUNP Broadcast and Interview, Saturday August 4, 2007
6PM CEST (Berlin) | 5PM (UK)
hosted by neuroTransmitter
with Special Guest: Mark Beasley
On the Air — 95.2 FM (Berlin)
Via Internet — www.unitednationsplaza.org
---
Corporate Engagement Studio Voltaire Thursday 31st May, 6.30pm – 8.00pm
Studio Voltaire presents a discussion between Robert Garnett, Dan Kidner and Lisette Smits around Chris Evans' project, Radical Loyalty; chaired Matthew Cornford.
For more information visit www.studiovoltaire.org
---
ADVENTURE: Showdown at the pig palace EVENT: 7PM SATURDAY 17 MARCH 2007
Nic Bullen (Napalm Death, Scorn and Black Galaxy) plays ADVENTURE live at City Projects.
---
ADVENTURE: Showdown at the pig palace
31/1/07 – New audio work commissioned by City Projects.
4 – 25 MARCH – CITY PROJECTS
2 – 21 MARCH – OUTPOST GALLERY
6 MARCH, 1PM – RESONANCE 104.4FM
DATE TBC – WPS1 ART RADIO
---
City Projects' new website
05/10/06 – Welcome to the new City Projects website. The site contains information about existing and forthcoming projects and exhibitions, as well as a database of all resource material held at the space.
In addition, the site will carry specially commissioned texts about the projects, interviews with the artists, and audio and film clips of their work.
---
RADICAL LOYALTY
28/09/06 – An exhibition of maquettes, prints and other documents is at Studio Voltaire, London from 6 October – 12 November 2006 www.studiovoltaire.org
Also, Magnetic Promenade, a new publication by Evans with contributions from Liam Gillick, Graham Fagen, Will Bradley and Jaki Irvine among others, will be launched at Store Gallery, London, 7 November, 2006, 6-8.30pm www.storegallery.co.uk
City Projects is currently managing the final stage of this ambitious project. The next step will see the construction and opening of the Radical Loyalty sculpture park in Estonia. Join the mailing list to receive updates on this and all other projects.
Documents from the project were also recently featured in the British Art Show 6
go to CONTACT (to join the mailing list)
---
TRUE LOVE
08/07/06 – A public sculpture installed on the roof of City Projects' space in Homerton, East London.
---
---
Knut Ã…sdam, Tate Modern
---